What is paradise for street performers?
Well as with everything else in this world there is no perfect paradise but for street performers, New Zealand comes very close. Both New Zealand and Australia have a ton of busking festivals and competitions all the time. Kids 14 and over sometimes younger can be found in New Zealand out busking on the weekends and it is not looked down on in as great a numbers as other places in this world. A good busker is more often encouraged and appreciated in New Zealand than looked down upon.
MWSellwood
is a multi talented
Featured Videographer
for Street I Am, an established guitar busker in Auckland and has been documenting the talent on the streets there and elsewhere for a while. As you will hear in this video the talent in Auckland is substantial.
So what's up with Auckland?. The New Zealand Herald reports today that the City is deciding whether or not to limit busking and increase the fines for infractions. Now MK Sellwood is leading a discussion in Auckland to revisit the busking law and create a more socially optimized solution.
There is a general appreciation of Street Artists in Auckland. There is no permit fee for talent exhibition on the street. When complaints are raised with the authorities they are usually very reluctant to issue more than a warning and seem to use highly admirable discretion in presenting citations. Another positive is, if someone complains about the performers the authorities often let the performer know, and log it dutifully every time. Rarely does it get to the point of a fine for the performer as buskers generally move on and come back later. So that is good for the trust of the whole community. Apparently you have to be quite a bother before anybody in Auckland is going to raise a fuss.
But some apparently do complain repeatedly and seem to get no solution. So it is incumbent upon the good offices of the government in Auckland to find which of these complainers are just cranks. People who want to impose their own sense of order over others unwilling to embrace any compromise. They also need to see if some complainers raise a genuine point which will be useful in locating the places where greater than 65db may be appreciated at certain times and where less than 65db is appreciated all the time. Why? Because sound carries differently in different places and sometimes a stakeholder has to think without being subjected to the same song they've had to listen to 3 times a day every day, at just a bit to loud a volume, right outside their door.
Sometimes the ability of the stakeholder to think helps keep that street a profitable place to busk. Sometimes your personality or business model just might not work for certain neighborhoods. Sometimes the culture in a place, is what gives it the prestige you want for your business or residence. So you might think before you move in and change the culture if it results in damage the desirability of the place.
Street I Am is based in the Los Angeles area and I can give you 2 examples of 2 different policies one mile apart.Venice Beach is a world famous destination where you do not even need a permit to perform or recite poetry or play a radio and ask for money. It is one of the last places in the USA where free speech of this type is still available and Google as well as other tech firms have offices. Other high end money and residents live and work here and the culture keeps them coming. Performers need to pack it up at sundown. The performers talent runs from spotty to eccentrically brilliant.Santa Monica 3rd St Promenade and Pier is a different affair. It is wealthy to solid middle income heaven and the performers all pay a reasonable fee for a permit. The talent is more professional and have cards and contact info and  often of the big stage and pre big stage level. This video, songwriting street star and busking beauty NAIA KETE performs on the 3rd St Promenade in Santa Monica California USA.
65db is the sound limit everywhere in Auckland, no matter where you are no matter what the time. This one size fits all approach by government entities is not exclusive to Auckland. It is simply the way that bureaucrats who are lazy and/or opportunistic govern and as usual we find that it may not be useful for street culture. Unfortunately now the City Council of Auckland wants to double down on this current inefficiency and make fines unbearable and start giving themselves the power of police judge and jury over any complaint. They seem to some to seek the power to decide what is art.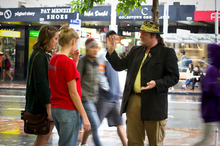 Learn more about the performers in Auckland in
By Rhiannon Marley, Joanna Mathers