CREATING PERFORMANCE SPACE ON MAIN STREET. ECONO-CULTRUAL DEVELOPMENT ENVISIONED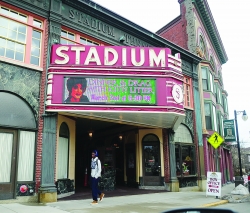 Land Use
Total Assessed Value
Average Assessed Value per
Square Foot
Mixed Use: $5.95 million, $67.84
Civic: $4.35 million $42.62
Religious/Nonprofit $6.62 million $64.67
Vacant: $2.2 million $4.13
Total $46.37 million
Vacant lots and mixed use seen as the key to performance space availability
The public is encouraged to review the Cecil Group and City of WOONSOCKET Main Street Livability Plan.
CLICK WOONSTOCK MAIN STREET LIVABILITY PLAN to see the picture of what they]re thinking. There is a lot of mixed use and vacant property that the planners will consider for performance space development along with some non  profit designated use as well.
These underutilized properties detract from the vitality of the Main Street area, and their average values per square foot are among the lowest of all land use types in the study area. (Chart 1 shows average assessed value per square foot by land use. Mixed-use properties have the highest average assessed value per square foot of any use.)
Along with vacant properties are vacant and underutilized buildings. As shown in Figure 6, many of the commercial and mixed-use properties in the study area are fully or largely vacant, according to data provided by the Town of Woonsocket. These buildings are largely located on Main Street between Market Square and Monument Square, further diminishing the attractiveness and vibrancy of the entire study area. Combined with the vacant and underutilized properties, these buildings create discontinuities in the downtown. Vacancies were also cited throughout this planning process as one of the reasons people tend not to walk along Main Street and frequent businesses, preferring instead to only visit Market Square or Monument Square.
The Commercial value $13.15 million is the most valued portion of the study area $42.87sqft.